Study Declares U.S. Federal Procurement Documents Incomprehensible
VisibleThread 2016 U.S. Government Procurement Clarity Index Suggests Poor Readability of Solicitation Documents are Driving Costs Higher for Federal Agencies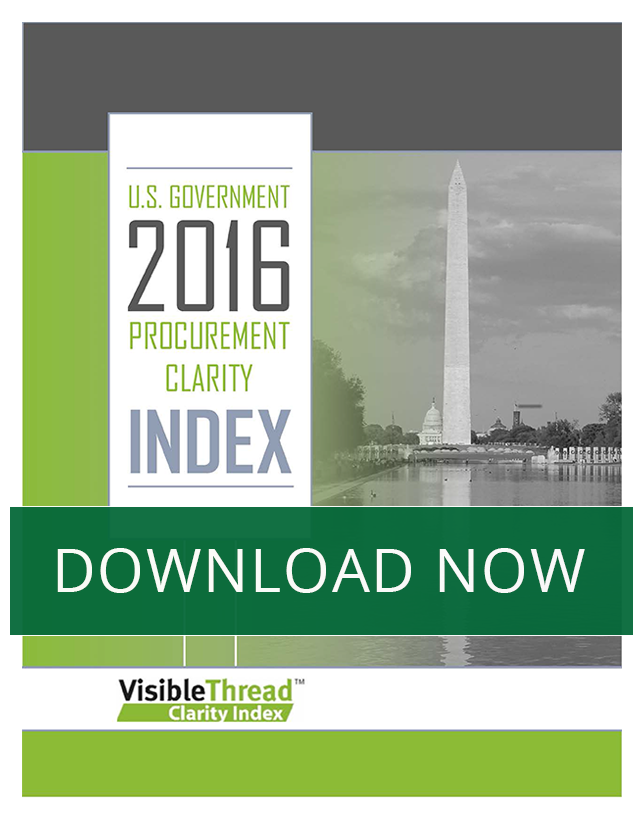 Baltimore – March 16, 2016 – VisibleThread released a report today on the clarity of government procurement documents. The study finds that federal agency proposal solicitation documents have poor readability. The report also explores the consequences poor writing creates for federal agencies. VisibleThread published the full report here.
"Federal RFPs have a reputation for being hard to understand and we wanted to measure that,"
stated
Fergal McGovern
,
CEO of VisibleThread
.
"Our goal is to begin a discussion of how processes could be improved to benefit everyone involved."
Procurement processes for federal contracts are subject to many regulations. RFPs provide instructions to bidders, but can be hundreds of pages long and detailed. Bidder questions often force agencies to issue many amendments to clarify their requirements. If a bidder misinterprets or doesn't follow directions exactly, they will be disqualified. The process creates unnecessary administrative costs for federal agencies. Agencies can also miss out on better qualified and more cost-competitive contractors.
"Federal workers feel a lot of pressure to get documents out the door. And materials pass through a lot of hands before they're published," noted Phil Nesbitt, Director of Proposal Development for Artel LLC. "Agencies would save time and money if they focused on improving readability. Poor quality documents can lead to a host of unintended and costly consequences."
Scoring and target levels for readability are set by Flesh-Kincaid tests. The U.S. Navy developed the method in the 1970s to improve the quality of training materials. None of the documents included in VisibleThread's analysis met target readability or grade levels.
VisibleThread's report analyzes documents from five of the largest federal bidding processes in 2015. The index ranks the clarity of key sections that tell bidders how to develop their proposals. Specific sections performed better than others in the analysis. Detail on the performance of specific sections and other analyzes are in the report.
---
About VisibleThread
VisibleThread helps executives in large organizations govern content quality with less cost and risk. Sales and marketing teams in diverse industries use our technology to improve many functions, including proposal development, contract review, and brand audits. Our software finds brand compliance, poor readability, and other issues in websites and documents. Unlike consumer-grade analysis tools, VisibleThread processes hundreds of documents and web pages in minutes. Fueled with greater organizational intelligence, customers drive efficiency and reduce cost across their organizations. For more information, visit www.visiblethread.com.
[addthis_horizontal_recommended_content]