Major Highlights in this release include:
The introduction of Improvement Over Time
A redesign of the Scan Results page
Introduction of Improvement Over Time
This release brings the ability for users to track the quality of a scan and its subsequent revisions.
Before now, if you edited a piece of text, or revised a Word document, it was difficult to see if your edits improved the readability scores. Now Readability tracks your history of edits. You get intuitive feedback on how many revisions of a document or text snippet you have made. With this we can show the net difference in between the original document and final revision. This lets you see the power in edit and review cycles.
Consider these scenarios:
You analyze a piece of text. After reviewing the results, you edit the text in VT Readability to improve it and re-analyze. You can now compare the revisions and track improvements.
You upload a Word document to Readability for analysis. After reviewing the results and suggestions, you modify the document and upload the new revised version for analysis. More modifications are suggested, you amend your document and upload the revision to VT Readability.
Here's an example of tracking of improvement.

Here is how you can view your Improvements Over Time:
For Text Scans

Hit the Edit button on an existing text scan results view. Once you make your edits to the text snippet hit Re-analyze. The subsequent scan is a now a revision of the existing scan.
For Document Scans

Improvement Over Time also introduces the automatic detection of revisions based on the filename. If you upload a document from the dashboard, Readability will look at the filename and determine if it's a new revision of a previously scanned document. You can find more information in our help center article here.
Another alternative is to hit the Upload a Revision button on an existing document scan results view. From here you can upload the document you wish to be the revision of this existing document.
Scan Results Redesign
We've also redesigned the Scan Results page with stronger issue highlighting and suggestion interaction. The issue highlighting changes allow the user to better understand the problems within a paragraph and, through the use of hovers, get quick feedback.
While the suggestion changes allow you to display just one suggestion at a time for a paragraph. Allowing you to isolate the suggestion and evaluate the changes needed.
In the screenshot below the user has selected the Very Long Sentence suggestion. This expands that suggestion, greys all other suggestions out. It also increases the visibility of the corresponding issue in the paragraph.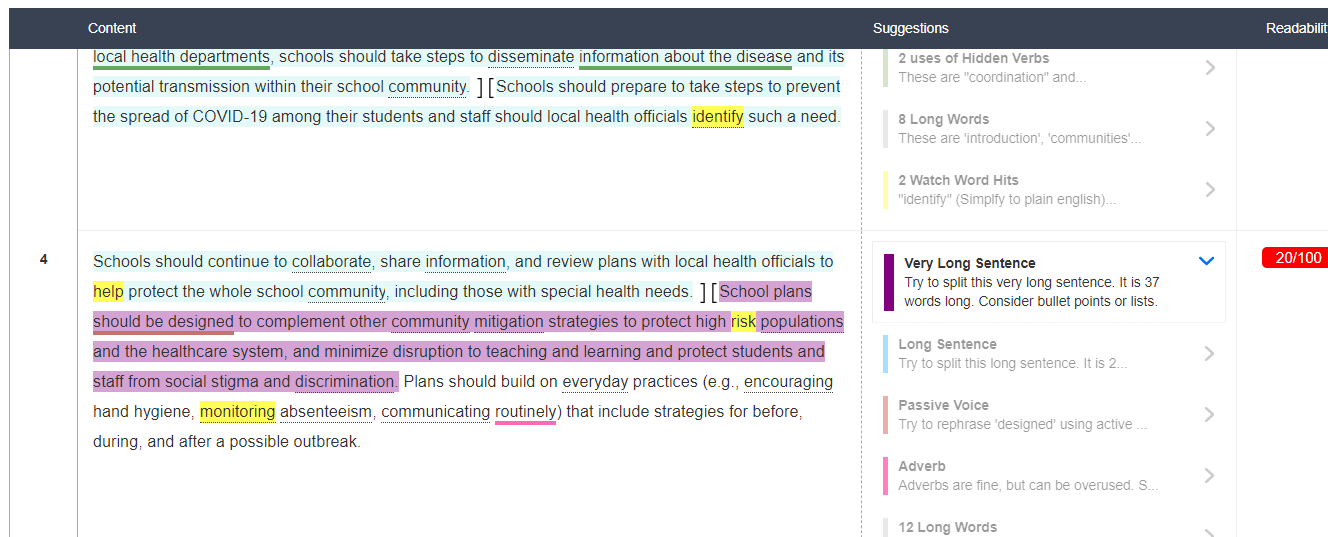 If you'd like more information about this release, check out the complete Release Notes here.
We hope you enjoy these improvements.
From all in the VisibleThread Product Engineering Team