APMP's Bid & Proposal Conference is in full swing at the New Orleans Marriott as we head into Day 3 of the world's largest event for proposal, bid, tender, capture and business development. We at VisibleThread have really enjoyed the first 2 days and are looking forward to more great talks from fellow industry professionals today.
Here are a couple of sessions we are particularly looking forward to:
Day 3 starts with Steve Hennessy, President of Hennessy Defense LLC looking at how to get the best out of proposal kick-off meetings.
'The Proposal Kick-Off Meeting should be one of the most critical first steps for any proposal team. However, far too often teams have short, weak, ill-prepared kick-off meetings…. or they don't hold one at all! Poor kick-off meetings cause problems throughout proposal development. Teams that rush through a kick-off meeting miss the opportunity to drive a high functioning team that understands all expectations of the proposal leadership team. They dive into the proposal head first without knowing real details and specifics about the offer and why the customer should pick you. Proposal outline issues, generic content, and high initial cost roll-ups are some of the critical issues that occur when you don't hold a detailed, well prepared kick-off meeting.'
It's great to see others stressing the importance of identifying RFP affinity quickly and ensuring better compliance and fewer gaps further along the process.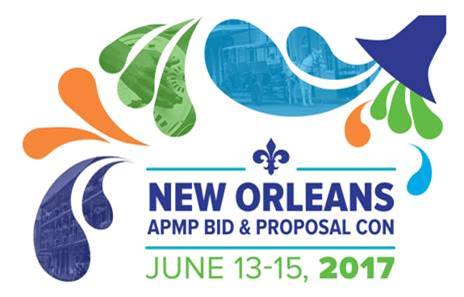 Later in the day, Dave Rinaldo and Hillary Fredrick of Chief will discuss tight proposal turnaround deadlines and how to meet them without harming the quality of your proposals.
'When it comes to providing services to federal and commercial clients, companies must be prepared to deliver proposals that are compliant, compelling and responsive to RFP requirements—oh and by the way—responses are due within one or two-weeks. So how do you handle the proposal process from initial capture, to proposal management and submission within a tight turn? You can conduct all the key elements of Business Development including capture, proposal management and coordination of responses within a quick timeframe as long as you have a strong, solid process that is flexible to accommodate the rapid response. This model or approach can work for small and large businesses.'
Say hello – Drop by & see us at Booth #34
We will have an exhibitor's booth all week at APMP's Bid & Proposal Con. If you're attending, drop by and say hello!
Click here for a full schedule of today's speakers at APMP Con 2017