What does a day in the life of your role look like?
A day in the life of a digital marketer is fast-paced, dynamic, and ever-changing. As technology and consumer behaviour evolve, so too must the strategies and tactics we employ.
A typical day for me includes reviewing analytics to gain insights into the performance of ongoing marketing campaigns. This helps to identify any issues that need to be addressed, as well as opportunities for optimization and improvement.
In addition, I spend time planning and implementing digital campaigns. This involves determining the most effective channels for reaching the target audience and allocating budget for paid media.
I spend time catching up with the rest of the marketing team. This allows me to get an overview of what everyone is working on. This ensures that all our work is aligned.
What's your team like?
The VisibleThread marketing team is bursting with creativity. We're a small but innovative team of strategic thinkers.
There is a good balance of individual and collaborative projects. These projects are aimed to achieve our team goals. As a remote team, we work hard at keeping the lines of communication flowing. I always look forward to our in-person meet-ups.
What makes you enjoy working at VisibleThread?
VisibleThread is a company that values its employees. They foster a positive work environment and provide opportunities for growth and development.
I enjoy my role at VisibleThread for several reasons. Particularly, working with a supportive and collaborative team and having challenging work. This allows me to feel that we have an impact on the overall company.
How do you feel like your efforts are recognized?
The leadership team at VisibleThread make an effort to call out the hard work done by team members. I have been offered opportunities for professional growth and a chance to take on new projects with more responsibility. The team gets together every so often for work events. It's nice to meet and catch up with everyone.
Any advice for people in your line of work?
What I have learned over the years is that the digital marketing landscape is constantly evolving. So, it's important to be adaptable and willing to learn and grow.
Tell us something fun about you
I love to travel. Seeing new places and experiencing new things is always number one on my to-do list. I moved to the west of Ireland a couple of years ago. I try to get home to Dublin as often. I can then spend time with family and friends.
A word from the Hiring Manager: Micheál McGrath – Head of Marketing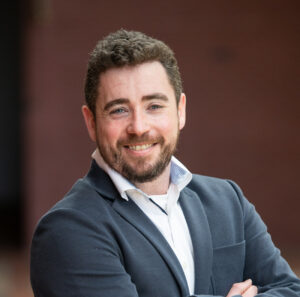 "As Head of Marketing, my goal is to build a team that will drive the company on its growth journey. Our Marketing team is energetic, passionate, and full of innovation. We believe in collaboration and working at a fast pace.
Culture is key to success. There's a direct correlation between enjoying your work and success. We have an environment that allows people to thrive, and it is key to our growth.
We embrace new ideas and are always looking to improve. In my role, I'm focused on investing in people. We put structures and time in place to allow our people to grow. In Marketing, we are always growing and adapting to market trends. There's no fear of failure, it's all about learning.
Data is at the heart of everything we do. We learn and succeed by attributing our work to the growth of the company. Everyone needs to feel connected to the company's success. We strive to achieve this in every campaign.
We've lots of personalities and backgrounds in our Marketing team however if you're collaborative, looking for growth, and always learning, you will fit right in."