Being consistent and having a good readability score will strengthen your brand promise in the eyes of your customers.
The term 'fake news' has dominated media headlines around the world over the past year. As the term suggests, the public has lost trust in many institutions and the way they communicate. These include the media, politicians, scientists, and more besides. It has also affected the business world.
Customers are challenging companies on what they produce, say and do. Content consistency and readability is a large part of that. Customers want plain language from your company, and they have more channels to communicate across than ever before. These include traditional face-to-face conversations, phone calls, print materials, your website and of course social media.
Remember, consistency in communication encompasses everything your company does. Consistency is about how you talk to your staff, and how you talk to your customers. It's about your brand, and the way you interact with clients. It's about sales and your company culture. So, it's no surprise that CEOs are wary about how their companies communicate. They don't want to be part of the 'fake news' phenomenon.
Content Consistency Builds Trust
The key is not to view communications as different, unrelated things your company says on a bunch of channels. Communication should be consistent. If your communications plan is consistent, then customers will trust you. This starts with your brand. Branding covers a variety of corporate activities. Companies with a clear, consistent and reliable message across their different platforms will stand out.
William Arruda is the co-founder of CareerBlast. In this article for Forbes, he says that "consistency is the key to successful branding. And consistency goes beyond the product itself." So how can we ensure our branding is as consistent and clear as possible? For the purposes of this article, we will focus primarily on language. However, you should remember that your company's design should act as a counterpoint to its language.
A Readability Score Software Makes it Easy
For our analysis, we used VT Writer for Doc, Web and Text analysis. The nice thing is that it flags issues at the paragraph level and it's free.
A brand that does it right
Nike's concise and memorable slogan, "Just Do It", is a household name. However, the company has backed that up with similar forceful, short messages across its platforms. Its social media channels use the same style of language. They use short, snappy sentences and active voice. There is no ambiguity.
Look at how they promote themselves on Twitter, for example. Here is an example of a tweet from July 2017:

This tweet has a Grade level of 4 and 2, respectively. As such, they have a high level of readability.
Nike is a case in point. Customers need to know what they're getting from a company. Your language should tie into your brand promise. Moreover, it should be plain language.
Let's take an example of inconsistent branding language – from a surprising source. Apple's branding is clean and sleek. Their products have revolutionized the retail world. Their impressive website stays true to their product offering. However, they stray a little when it comes to language.
Consider their description of the iPod Touch. They say the "iPod touch is the perfect way to carry your music collection in your pocket. With the iTunes Store — the world's largest music catalog — you can load up your iPod touch with your favorite songs. And thanks to iCloud, everything you purchase through the iTunes Store is automatically available on all your devices for free. To enhance your music experience even more, Apple Music is available on your iPod touch, right in the Music app."
VT Writer Readability Score
Now, let's run this through VT Writer. This description has three sentences that are too long.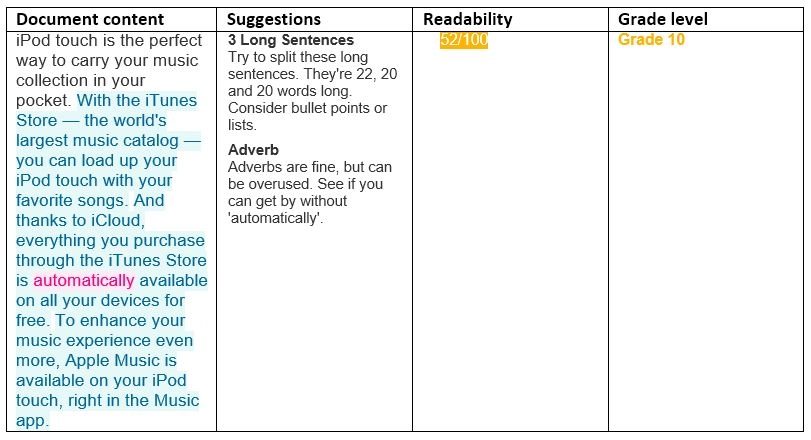 Let's looks at how they describe the iPhone 7: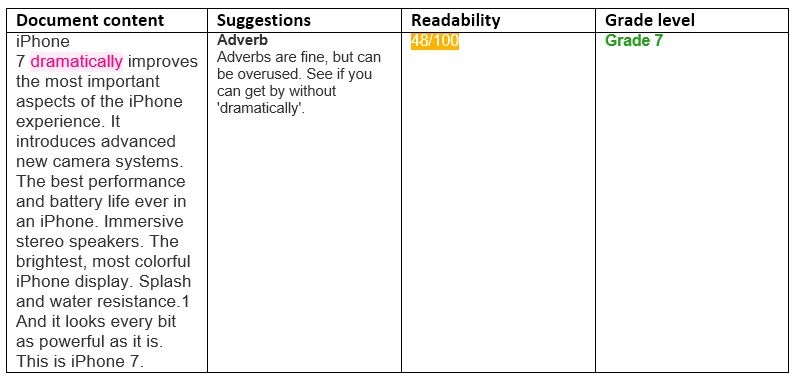 There's a huge difference between the two descriptions. Three reading grade levels, in fact. Apple's description of the iPhone 7 is more or less true to its branding promise of plain language. It is simple and clear, and readability is good. However, their description of the iPod Touch is more rambling. Long sentences lose the reader's attention, and there is no consistency. There is a big difference in readability between the two descriptions.
Let's take another example. Starbucks is a global brand with a huge audience. Their 'Featured Offerings' are on their home page. We expect to see a brand like Starbucks to have a good readability score. Let's have a look at the language they use to describe their 'Teavana Shaken Peach Citrus White Tea Infusion'

Starbucks commits three language sins in two sentences
In this example, Starbucks commits three language sins in two sentences! A long sentence, using the passive voice, and two adverbs. Let's see how we can improve this text.
First off, let's split this long sentence up and use the active voice. Instead of:
"Fruit and botanical blends featuring ripe peach flavour notes are combined with premium Teavana White Tea."
We can say:
"Premium Teavana White Team combines with fruit and botanical blends, featuring ripe peach flavour."
We have eliminated the overly long sentences, and written this description using the active voice. Now we can take away the second adverb in the last sentence. What's the result?

After a simple fix, we have improved the reading level of this piece of text by four grades.
Let's summarize. Your message should be simple, clear and consistent across your company's communication channels. Any kind of 'fake news' is not an option for your customers. Make sure your company follows plain language guidelines, and your readability score is good.
If you write like this and back it up with effective design, then you will develop a reputation for reliability and trustworthiness. After all, no one wants to be associated with 'fake news'.
---
Takeaways
Communication is about content consistency as well as plain language.
Good communication builds trust among your customers.
We analyzed the language of three brands, outlining examples of good, inconsistent, and poor branding language.
You can get a good readability score by using solutions such as VT Writer. This solution provides instant reports on problematic content and suggests fixes.
You can use solutions like this for any subject matter, scoring product brochures, blog posts etc.