We are bringing together our Sales, Marketing, Customer Success, and Product departments to create something truly remarkable. Over the years, I have had the privilege of supporting, and/or managing numerous teams. However, VisibleThread's unwavering commitment to fostering a sense of togetherness and promoting teamwork is truly unique. I'm delighted to be a part of it.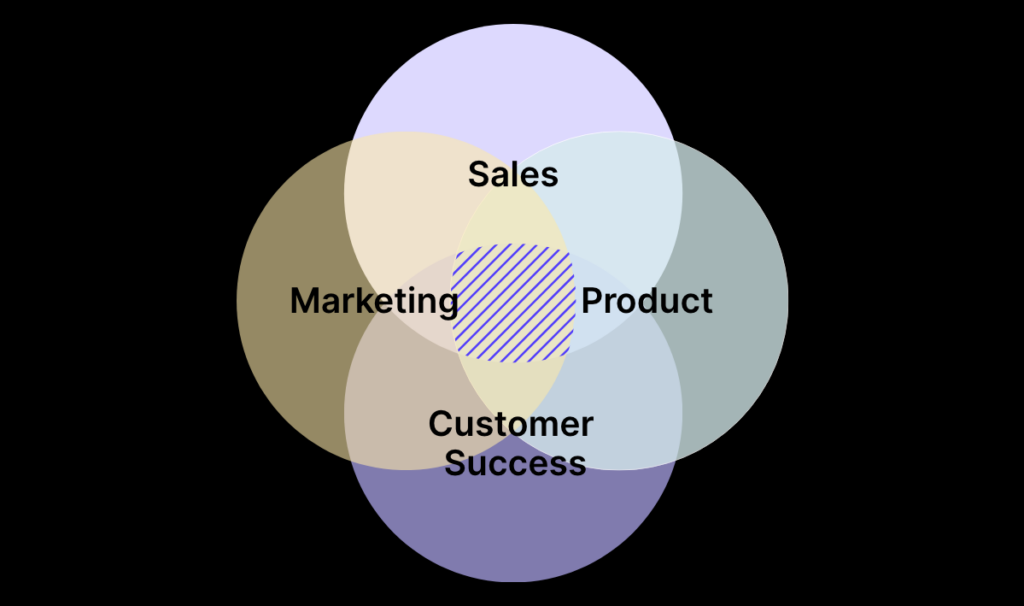 Sales and Marketing: A Unified Front
I can confidently say that a close connection with our Sales department is the secret sauce to our success in Marketing. While it's no secret that a Sales and Marketing relationship can sometimes resemble a turbulent rollercoaster, here at VisibleThread, it's the complete opposite. Our Sales and Marketing teams work hand in hand.
Imagine a world where Sales and Marketing can align, debate, and agree successfully. At VisibleThread, that's our reality. Our Sales colleagues provide us with invaluable insights and real-time customer feedback, acting as our guides through the ever-evolving landscape of customer needs and preferences. Armed with this knowledge, our Marketing team can work with the knowledge that their outputs will affect the business's bottom line.
But what does all of this really mean for our customers? It means a journey that flows effortlessly from the first note of awareness to the final purchase. It means a brand experience that is consistent, engaging, and impactful.
In a world where true cross-collaboration is often elusive, we've cracked the code. At VisibleThread, we've embraced collaboration in all its glory, and it's steering us toward continued success.
Customer Success: A Customer-Centric Experience
At VisibleThread, we firmly believe in placing our customers at the heart of everything we do. As the Head of Marketing, I am proud to witness the strong collaboration between our Customer Success and Marketing. We prioritize the satisfaction and experience of our customers, and this commitment is deeply ingrained in our organizational culture. Our Customer Success team maintains open lines of communication with our valued customers. They are actively seeking feedback to understand customer pain points and identify solutions to their needs.
The seamless flow between Customer Success and Marketing is key to our success. This exchange empowers our Marketing team to create innovative content, events and activities to directly address customer pain points and enhance the overall user experience / customer journey. At VisibleThread, we understand that customer success is a shared responsibility. By working closely together, our Customer Success and Marketing teams strive to create a customer-centric environment that drives satisfaction and long-term success for our valued customers.
Marketing and Product: Collaborative Innovation at VisibleThread
At VisibleThread, our teams are privileged to have an incredible suite of products that we are truly proud of. As a marketer, it's wonderful to witness the seamless collaboration between our Marketing and Engineering/Product Teams. This collaboration ensures that our customers fully comprehend the purpose and scalability of our feature set. It empowers them to make informed decisions and maximize their experience with our offerings.
One area where we place a strong emphasis is security. We understand the paramount importance of safeguarding our customers' data and ensuring their peace of mind. By aligning our Marketing efforts with the expertise of our Engineering and Product teams, we effectively communicate our robust security measures, reassuring our customers that their sensitive information is protected at all times.
This close partnership between Marketing and Engineering/Product is a testament to our commitment to delivering a comprehensive and compelling experience for our customers. By working hand-in-hand, we ensure that our marketing initiatives accurately convey the exceptional capabilities of our products while maintaining transparency and trust. Together, we are dedicated to empowering our customers with the knowledge they need to leverage our offerings to their fullest potential.
A Positive Work Atmosphere: Collaboration as the Cornerstone
VisibleThread recognizes the importance of breaking down silos and fostering collaboration across departments. Regular cross-functional meetings and brainstorming sessions bring together individuals from Sales, Marketing, Customer Success, and Product. These interactions facilitate the sharing of ideas, insights, and perspectives, leading to innovative strategies and solutions that benefit both the company and it's customers. By encouraging cross-functional collaboration, VisibleThread nurtures a culture of inclusivity, creativity, and collective success.
The emphasis on cross-collaboration at VisibleThread goes beyond achieving business objectives. It creates a positive work atmosphere where employees feel valued and empowered. Collaboration promotes a sense of camaraderie, trust, and shared responsibility among team members. The exchange of knowledge and skills not only enhances individual growth but also creates a collective intelligence that propels VisibleThread forward. This positive work environment is vital for attracting and retaining top talent, fostering employee satisfaction, and fuelling the company's long-term success. It's a pleasure to be a part of.

Check out our open roles.