In one of our recent training webinar – How to Use Discovery in VT Docs – we provided pivotal knowledge. Being helpful sorts, we've condensed the key points into this blog. We'll explore the top 5 tips for leveraging Discovery alongside handy time stamps. Expect insights on:
Customizable features
Integrations
Visualization capabilities
Are you ready to say "goodbye" to manual input and "hello" to reduced risk and improved efficiency? Super, let's dive straight into our top 5 tips!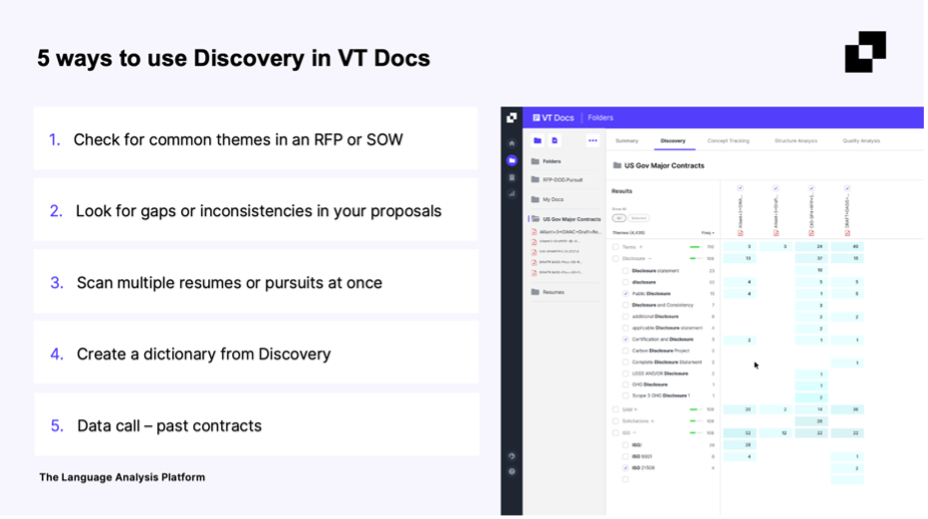 Check for common themes in an RFP or SOW. Using Discovery in VT Docs allows you to efficiently analyze RFPs or SOWs. How? By aligning multiple documents side by side. Then, Discovery identifies common themes and detects frequent topics in your response. It allows you to expand each theme to uncover sub-themes, meaning you can address potential gaps or inconsistencies. This ensures a comprehensive and compliant proposal that meets the requirements specified in the RFP or SOW.


Look for gaps, or inconsistencies, in your proposals. By aligning your proposal with the RFP, or customer documentation, you can identify potential gaps in addressing specific themes. Verifying alignment with customer requirements means you can quickly spot any missing concepts, or inconsistencies, in your response. From there, you can ensure your proposal covers all essential themes and specific customer requirements. What if a critical theme is mentioned in the RFP but isn't addressed in your proposal? Well, Discovery helps you identify the gap and make necessary adjustments to improve compliance and responsiveness.


Scan multiple resumes or pursuits at once. We've established that using Discovery helps to streamline the analysis of multiple resumes, or pursuit responses. This helps with long-term strategic pursuits.
As for where to start? Create a folder with the job description or RFP on the left and the resumes/pursuit responses on the right. This will efficiently compare alignment or misalignment between them.
With Discovery automatically identifying themes within the resumes/responses, this simplifies the process. Evaluating candidate qualifications and experience against the job requirements helps you streamline the best potential candidates.


Create a dictionary from Discovery. categories to organize your dictionaries. Discovery can identify key themes, saving emerging ones as views to build new dictionaries for future use. This approach allows you to create a robust and dynamic dictionary tailored to your organization's unique needs. By extension, this ensures the quality and consistency of your content improves over time.

Data call – past contracts. Discovery can compare and analyze past contract documents for patterns and key information. It highlights recurring themes and important details in a centralized view. As a result, it enables quick data gathering and analysis for contract management and decision-making.
So, you can organize past contract documents in a folder, and with Discovery's side-by-side comparison, identify trends. This brings essential insights from your contract history. Whether you seek specific language, compliance data, or performance metrics, Discovery streamlines the process. In short, it's an invaluable resource for contract analysis – if we do say so ourselves.
So, what did our live webinar audience think of our examples in realtime? Which one did they find most insightful? Behold our results:
As you can see, locating gaps and inconsistencies in your proposal writing is at the forefront. For more info on how VisibleThread can aid proposal writing, we have a slew of resources on this matter. Take our Ultimate Guide to Proposal Writing for starters!
We hope you found our timestamps helpful! Want to view the webinar in full and uncover more about Discovery in VT Docs? You can watch the full webinar here.
For a step-by-step guide on Discovery, take our free Discovery skill-building module. Why not start your journey and enhance your VT Docs expertise by taking our free skill-building module course in VT University.
Or if you're looking for a little support with Discovery, you can reach out to the VisibleThread's Customer Success team. We can provide personalized assistance and guidance on using Discovery effectively. Simply book a call with your dedicated Customer Success Manager here.