What does a day in the life of your role look like?
On a typical day in my role, I am collaborating with representatives from a variety of organizations to increase brand awareness. 
I am responsible for the targeting, planning, managing, executing, and reporting of all events. My favorite part of working with events is to see the result of all my hard work and watching other people enjoy it as well.
What's your team like?
I work in the Marketing team. My favorite thing about the marketing team is that everyone has a different valuable role and I thoroughly enjoy our weekly meet-ups to discuss what everyone is up to individually. Learning what everyone else is up to gives me inspiration for innovative ideas and motivates me to constantly learn and expand my knowledge.
When first joining VisibleThread, I was a part of the Sales department. While I loved my role there, I've always had a passion for marketing and knew I would thrive excelling my career in a marketing role. I am very fortunate to work with such wonderful colleagues who invest in my future and give me the resources to expand my knowledge in marketing.
"Since joining the Marketing team, I've learned so much and have found my true 'home'."
What makes you enjoy working at VisibleThread?
There are many reasons I enjoy working with VisibleThread. To start off, the culture of the company is wonderful. I consistently see a passion and drive from every employee, and it is nice to collaborate with. I love our unique ability to bounce ideas off one another.
How do you feel like your efforts are recognized?
At VisibleThread we have the ability to implement our work from home, but I enjoy getting to see other employees in person for events. During these times, we really try to soak up every moment of being in person by working together and going on staff outings.
We have a group chat called wins and praises where everyone sends updates spotlighting other employees for their hard work. It is nice to get recognition for all the hard work put into our roles and be acknowledged by our colleagues.
Tell us something fun about you
In my free time I enjoy painting canvases for fun, although I am a perfectionist, sometimes it gets the best of me. I am always looking for new ideas to get inspiration from. I also enjoy making homemade pasta, I could eat pasta every day of my life if calories didn't exist.
A word from the Hiring Manager
Micheál McGrath – Head of Marketing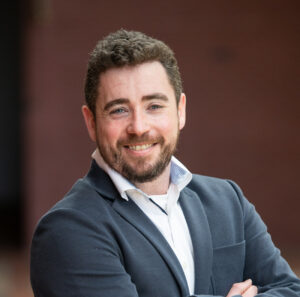 "As Head of Marketing, my goal is to build a team that will drive the company on its growth journey. Our Marketing team is energetic, passionate, and full of innovation. We believe in collaboration and working at a fast pace.
Culture is key to success. There's a direct coloration between enjoying your work and success. We have an environment that allows people to thrive, and it is key to our growth.
We embrace new ideas and are always looking to improve. In my role, I'm focused on investing in people. We put structures and time in place to allow our people to grow. In Marketing, we are always growing and adapting to market trends. There's no fear of failure, it's all about learning.
Data is at the heart of everything we do. We learn and succeed by attributing our work to the growth of the company. Everyone needs to feel connected to the company's success. We strive to achieve this in every campaign.
We've lots of personalities and backgrounds in our Marketing team however if you're collaborative, looking for growth, and always learning, you will fit right in."