What does a day in the life of your role look like?
My daily role focuses on building strong relationships with my customers, listening to my customers' needs, and acting as a trusted advisor.
I also act as a customer advocate internally and collaborate closely with teams like Engineering, Sales, and Marketing.
What's your team like?
The Customer Success team I work with are incredibly supportive. There's a large emphasis placed on knowledge sharing. We all come together to brainstorm and resolve problems. For a team spread across Ireland and the USA, we all know each other very well and have a lot to laugh about in our team meetings.
What makes you enjoy working at VisibleThread?
"I love that we have the autonomy to make a difference in VisibleThread. Senior leadership encourage us to challenge processes and to never stop questioning if improvements could be made."
I also love that VisibleThread has a 100% remote working policy. I've been able to achieve a great work/ life balance that I haven't had in other positions. No one wants to sit in traffic for 2-3 hours a day!
How do you feel like your efforts are recognized?
I'm approaching my 1-year anniversary with VisibleThread in July and have already had the opportunity to attend the VT Summit in Washington D.C. It was fantastic to be able to meet colleagues and customers in person and to also see a new city at the same time. VisibleThread also encourages continued learning and has supported me in pursuing a part-time course – which I greatly appreciate.
Any advice for people in your line of work?
"Customer success is all about communication. Not just how you communicate with your customers, but also how you communicate with internal teams. Being a clear and pro- active communicator can go a long way!"
Tell us something fun about you
I love travelling and am always jumping at the chance to visit new places and experience new things. Other hobbies I love are pilates, kayaking, and hiking.
A word from the Hiring Manager
Kyle Peterson – Vice President of Customer Success.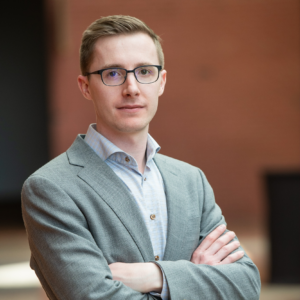 "Our Customer Success team is wholly focused on delighting VisibleThread users. To do this, we have built a team of driven, inquisitive, and people-focused individuals who engage deeply and strategically with their users. Our diverse team includes professionals hailing from our end user community, SaaS customer success teams, and the consulting industry. I am energized by learning from each team member's varied experience and how they leverage it within a user's context.
In addition to driving success within our customer base, it is important that Customer Success team members achieve their own vision of professional and personal success while working at VisibleThread. Opportunities for development and advancement are plentiful in our growing and flat organization; there is nothing more rewarding for me as a leader than discussing goals, interests, and ultimately advancing the careers of my team members.
There is a huge amount of opportunity for anyone looking to deliver a value-driven approach for our enterprise customers. We seek to empower their employees by tying our data-driven products (of which I was a former user) to quantifiable metrics. If you are curious, analytical, and obsessed with generating wins for current and future VisibleThread users, you are a natural fit for our organization and my team."