The Center for Plain Language hosted the annual ClearMark Awards this month. These awards promote the use of clear writing in North American organizations. It judges entrants in various categories based on their use of clean, plain language.
VisibleThread sponsored the event.  We're pleased to associate with companies that are at the forefront of the clear writing movement.
Participants are looking at ways to make their communications more consistent and accessible. They understand that this will improve how they engage with clients and citizens.
Some of the notable participants included:
JP Morgan Chase won 'Best Before and After: Print' category for their 'Estates vehicle transfer letter'. "This is a good example of plain writing addressing a delicate situation. [This is] much improved from the prior version," the judges said.
Anthem, Inc. won 'Best Forms, Applications and Statements' for 'Transforming the Anthem Explanation of Benefits'. The judges said this entry shows how investing in plain language allows an organization to reach and educate users.
United Healthcare Won 'Best Brochures up to 10 Pages' for their 'Getting Started Guide'. "This fine piece is a stellar example that achieves the delicate balance of communicating clearly through language and graphic design," commented the judges.
Quicken Loans was a finalist for 'Best Digital: Websites' for its 'QuickenLoans.com Home Buyer's and Refinance Guides'. Quicken Loans' content strategy is focusing heavily on simplicity in business communications. The company has passed Wells Fargo as the Number 1 mortgage lender, showing that simpler communication increases business.
Automate clear writing standards
To support the CPL mission VisibleThread are providing open access to VT Writer/ Email service to all CPL members.
For the first time, all content contributors, bloggers and executives have instant access to best practice readability guidelines.
Staff can submit MS Word and PDFs for scoring and readability analysis right from within their inbox. Staff just attach a document to a mail and send it to the server. Users don't have to sign into any environment and results are delivered back within seconds. This is a zero friction way for organizations to improve the standard of communications delivered by their disparate teams.
Congratulations to all winners, finalists and entrants. Seeing the number of organizations entering the awards, shows a move towards plain language use. There's clearly a growing awareness of the benefits that plain language can bring to business.
See the full list of winners here.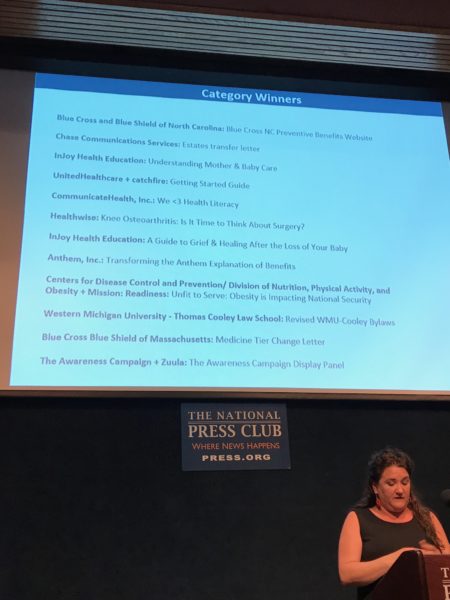 * The Email Server can run in cloud or on-premise for organizations. The open access is available cloud only for  3 months to support plain language compliance and improvement programs. Some conditions apply. For more information contact john.nolan@visiblethread.com.