Graduate Of The Month
Meet John Lewis, a Solutions Sr. Advisor at General Dynamics Information Technology (GDIT), working with the Technology Shared Services (TSS). In his role, John plays a crucial part in supporting capture and proposal teams. He assists them in securing new, re-compete, and task order business solicitations.
His responsibilities involve developing proposal responses and innovative solutions that support a winning strategy. John closely collaborates with Business Development, Capture, and Division leadership. This ensures the development of compelling solutions aligned with customers' missions. John and his team at GDIT use VT Docs to assist their work.
John enrolled in VT University and completed both VT Docs courses, demonstrating his commitment to professional growth. Sharing his enthusiasm on LinkedIn, he said:
VT University
VT University is your gateway to unlocking the full potential of our platform and earning valuable certifications. Are you ready to take your skills to new heights? Our free virtual courses provide a seamless and comprehensive learning experience for VisibleThread solutions. With our step-by-step guidance, you'll become a master of our platforms in no time. But that's not all! Once you conquer each course, you'll have the chance to prove your expertise by acing our certification exams, making you a top-performing user.
Don't miss out on this golden opportunity to supercharge your skills and boost your career. Enroll in VT University today and embark on an exciting journey of growth and discovery. We're committed to supporting your success and ensuring that learning is not only enjoyable but also rewarding. Get ready to unleash your full potential with us.
When you sign up for VT University, you open the doors to a world of opportunity. Take advantage of our certified courses, carefully designed to empower you with valuable knowledge and skills. Each course is conveniently structured to be completed in approximately one hour, ensuring efficient and focused learning.
Additionally, we offer skill-building modules that target specific areas for further enhancement. Whether you're looking to expand your expertise or acquire new capabilities, we've got you covered. VT University is the ideal platform to invest in your personal and professional growth. Join us today and unlock your true potential.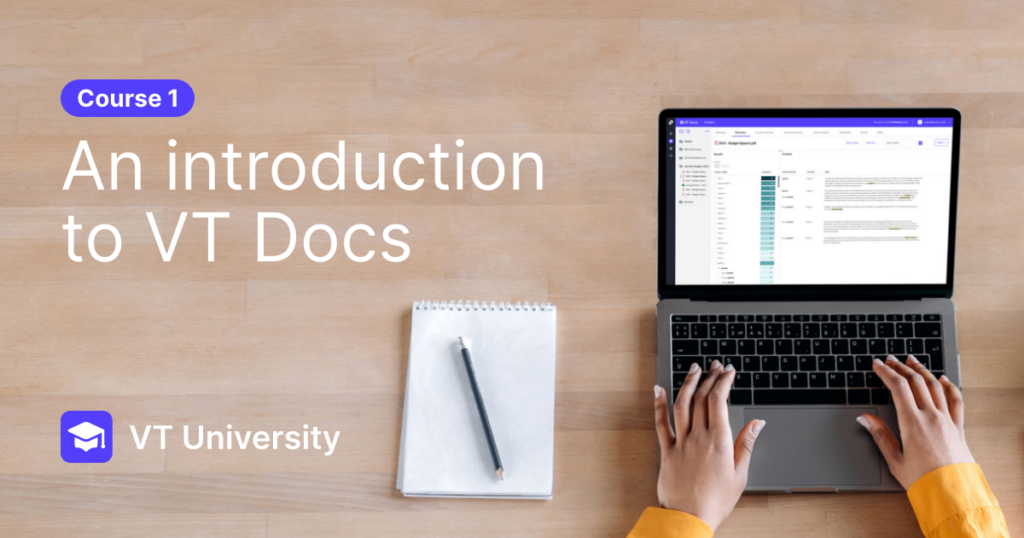 Course 1: An Introduction to VT Docs
Get ready to dive into the world of VT Docs with our first course, "An Introduction to VT Docs"! This comprehensive program is designed to equip you with the knowledge and expertise necessary to navigate VT Docs with confidence. Through a series of 7 concise tutorial videos and interactive quizzes, you'll breeze through the course at your own pace.
Discover productivity secrets with VT Docs as you effortlessly navigate the platform, master functions like Compare Docs and Compare Excel, and extract comprehensive lists of acronyms. Gain valuable insights into creating a starter Compliance Matrix and Responsibility Matrix, and discover techniques to enhance the overall readability of your documents. By the end of this course, you'll be armed with the skills needed to make the most of VT Docs. Enroll in course 1 today and begin your VT Docs learning journey.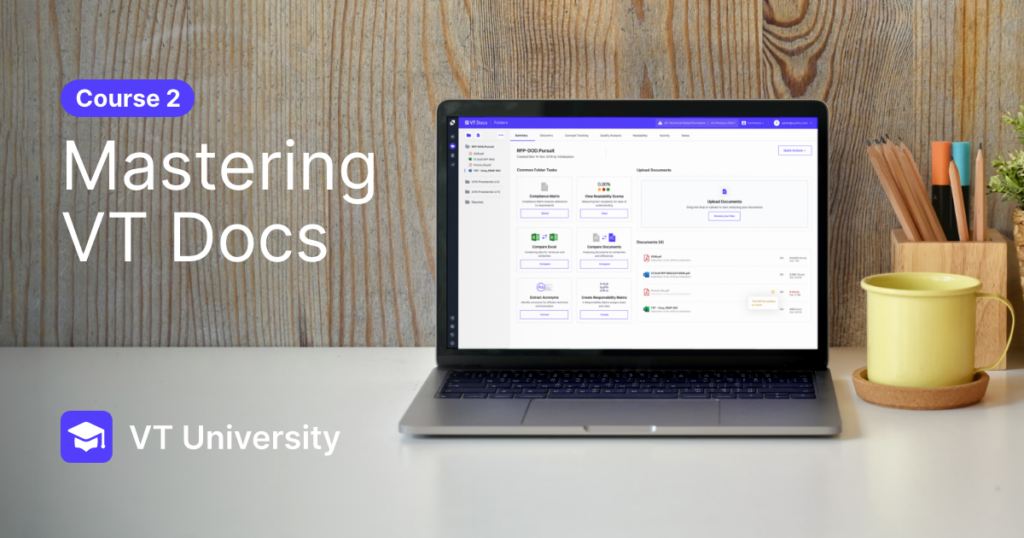 Course 2: Mastering VT Docs
The second course, Mastering VT Docs is designed to meet the needs of both seasoned users and newcomers. This comprehensive program includes 11 tutorial videos and captivating quizzes. You will dive deep into the essential features of VT Docs. From Concept Tracking and Discovery to the magic of Dictionaries and Macros, you'll develop a profound understanding of the platform.
Whether you are looking to refine your expertise or expand your knowledge base, this course is tailored to suit everyone's needs. Unleash the full potential of VT Docs and discover how to harness its powerful features like never before. Get ready to elevate your skills and unlock new possibilities. Enroll now in course 2 and embark on an exciting journey of discovery and mastery.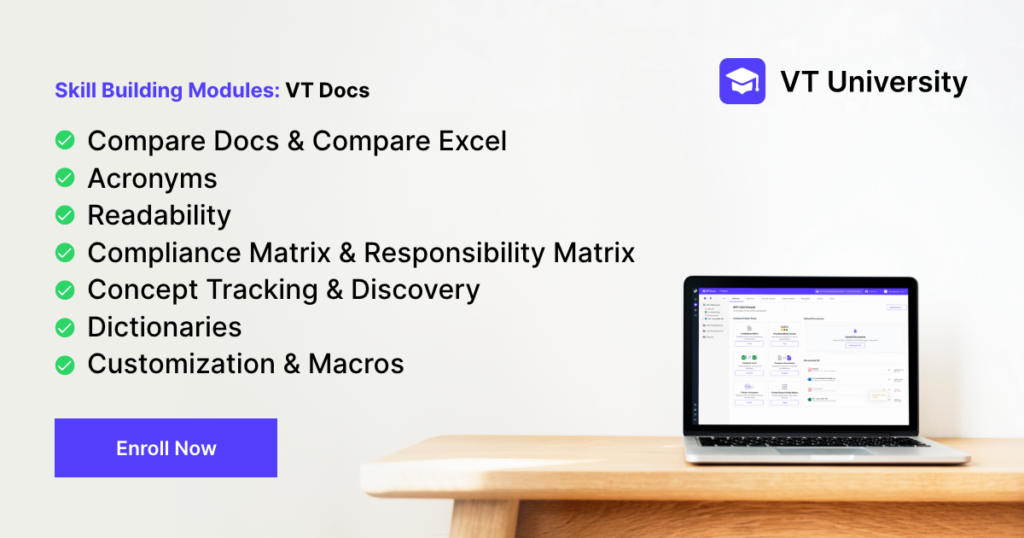 Skill Building Modules
Are you eager to level up your VT Docs skills but short on time? Look no further than VT University's Skill Building modules! Designed for busy individuals like you, these modules provide focused and efficient learning opportunities to enhance your VT Docs expertise.
Through 7 modules that focus on key aspects of VT Docs, we help you acquire practical skills that make an immediate impact.
These modules include:
Compare Docs & Compare Excel
Acronyms
Readability
Compliance Matrix & Responsibility Matrix
Concept Tracking & Discovery
Dictionaries
Customization & Macros
With VT University's flexible learning platform, accessing these modules is a breeze. Simply log in, explore our Catalog, and choose the Skill Building module that aligns with your goals. Best of all, these modules are completely free and provide you with invaluable knowledge.
Don't let time constraints hold you back from advancing your VT Docs capabilities. Optimize your efficiency and harness the full potential of VT Docs with our Skill Building modules. Enroll today and unlock a world of targeted learning at your fingertips.
VT Writer: Course Coming Soon
Exciting news awaits! VT University is thrilled to announce the upcoming release of our highly anticipated VT Writer course. Prepare to immerse yourself in a comprehensive learning experience that will transform your approach to analyzing and improving your communications.
In this course, you'll gain a deep understanding of the VT Writer report and unlock the full potential of this powerful solution. Learn how to effectively analyze Word documents, PDFs, and text snippets using VT Writer. You will discover the valuable insights that VT Writer can provide.
But that's not all! We'll also delve into the world of Watch Words, exploring their significance and demonstrating how to import new Watch Word lists. Additionally, we'll unveil the remarkable capabilities of the VT Writer Ignore List. Be among the first to know when this course is released by registering today. Don't miss out on the opportunity to revolutionize your language analysis skills with VT Writer.