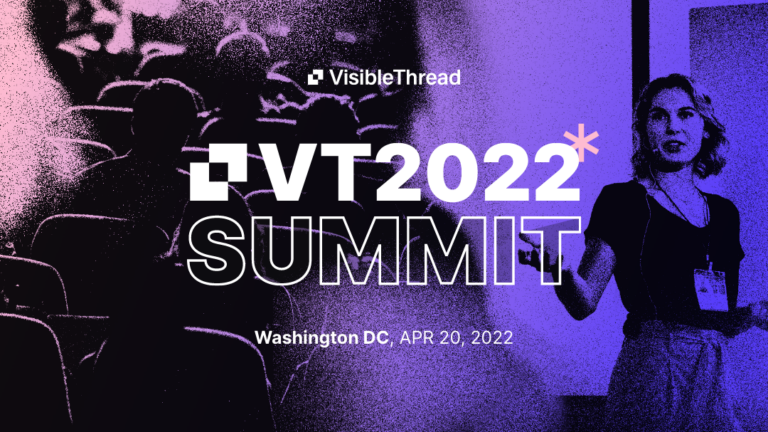 On April 20th, 2022, we held our first annual VT Summit at the Gaylord National Resort & Convention Center in National Harbor, Maryland.
Here we look back at an exciting gathering of industry experts in Bid, Proposal, and Contract Management. The event was a great networking opportunity and it was a chance to engage with the VisibleThread community.
We had an incredible line-up of speakers for #VTSummit2022:
Rick Harris, Chief Executive Officer at The Association of Proposal Management Professionals (APMP)
Highly regarded Senior Executive possessing extensive hands-on group management experiences, streamlining operations and optimizing staff performance to drive tremendous revenue growth.


Karnita R. McElveen, Vice President of Operations, and PMO at American Management Group
Continuously working to increase understanding and knowledge of operations, finance and accounting, contracts, and all staff support actions to ensure everyone remains focused on accomplishing all assigned duties to achieve AMG's and its affiliates' organizational goals.


Tiffany Watson, Director Of Government Pricing at AAR
AAR currently manages approximately $1 billion in assets for the U.S. government and is ranked among the Top 100 defense contractors in the world. In this session, Tiffany Watson, Director Of Government Pricing spoke about how automating process steps with VisibleThread has impacted the organization.


Erin Hughes, Market Insights Analyst at CareSource
CareSource invests in initiatives and organizations that make a lasting difference in their 2 million members' lives and communities by improving their health and well-being. Erin presented their ability to generate competitive insights with concept tracking and dictionaries in VTDocs.


Dennis Wagner, Corporate and Proposal Coordinator at ANSER
Assists corporate management throughout the business development cycle. Provides market analysis, opportunity analysis, and assists with the development of capture plans. Develops proposal win strategies and helps capture and proposal managers develop compliant, responsive, and compelling proposals. Manages the color team review process and supports the post RFP review process.
Many government contractors struggle to efficiently and accurately qualify bids and identify opportunities with the best chance of a win. In this ever-changing landscape, it's essential that contractors stay informed of industry trends and best practices. We had a great lineup of experts who discussed these challenges and gave insight into best practices.
Q&A sessions and interactive workshops:
Our VP of Customer Success, Kyle Peterson demonstrated practical and key use cases in our interactive workshops. You can view these in-depth sessions now, they are not to be missed!
Why did we lose?


In this interactive workshop, Kyle demonstrated an in-depth use case, showing how to identify weaknesses and provided actionable insights to avoid losses and increase your win rate.


How to support data calls in minutes?
With over a decade of industry knowledge at Cobham Mission Systems and SRC, Kyle understands the pain involved in the data call process. In this hands-on session, Kyle shared how you can analyze large sets of complex documentation quickly and accurately to support data calls.


How to Ensure Quality?
A real-life example of ensuring quality in a solicitation in our final workshop. This use case provided instant value to your quality team. Kyle shared how to reduce editing time, ensure compliance and increase your ability to win.
Take a look back at this exciting gathering of like-minded individuals and industry experts in Bid, Proposal, and Contract Management.