If you've spent any time with your legal team, you know that content carries liability. A certain degree of risk is present every time we communicate. How much risk may vary by industry, the nature of the communication and to whom it's addressed. We assess risk when we create the copy. Yet, we rarely worry about the potential risks content assets create in the future. We don't consider how expensive they can become to manage. And this isn't surprising – content assets are tactical and that influences our mindset.
When we consider the life-cycle of content, we begin to appreciate how staggering costs can be. With our eyes open to the total cost of content, we can plan strategies to prevent inefficiency.
The Content Tax: Your Total Cost of Content
As professionals, we produce a lot of content. This spans blog posts, user guides, slick sheets, videos, the list goes on.
Public sector or private, a huge proportion of our communication is in written form. In our work, content feels like a finite thing – a deliverable. Once done, that's the end of the story. We view the cost of producing it as the total cost. We produce content or outsource it to a vendor – the cost is either time or budget. And when we've finally approved the content, we're done, right!
Well, actually No.
The Cost of Quality Assurance. As individuals and departments, we track content quality every time we create an asset.
But for senior leaders, the challenge of quality assurance becomes much more complex. And the fallout of poor quality published content is tangible. Content helps the online buyer understand our services or information message.
And there's a tax, if it is turgid and non-engaging, it is a waste of time. If it has inconsistent brand / product references, it is a liability issue. And the more we produce, the more oversight we need, the more costly content becomes.
Content quality relies upon the skills of the reviewer. How capable are they of producing or editing copy with good readability? Do they understand company-specific mandates such as communication brand guidelines, etc? Once published is anyone actively reviewing quality?
Indeed, because skills can vary widely, how do you know how effective the communication will be? And once you publish, do the assets carry liability and risk? Risk around references to old Brand Names, old terms and conditions etc.
Content audits attempt to address these questions, but they are time intensive and rarely are automated. Often times the audit will tend to tie into a CMS migration project, rather than be an ongoing periodic activity.
We want detail of where quality issues exist, the nature of the issues and how to fix them. How long would it take your team to assemble this information for all your documents and web pages? How do you improve quality without slowing the company down or using lots of resources?
Why you really need Effective Content Governance
The Cost of Change: Change impacts content in a lot of ways. Changes in the law can make communication content obsolete. Litigation can make content a liability.
Changes to brands, product innovation, company mergers and leadership turnover can have big impacts on company content.
Failure to remove, update or replace outdated content may cost you sales, impact your stock price or expose you to fines.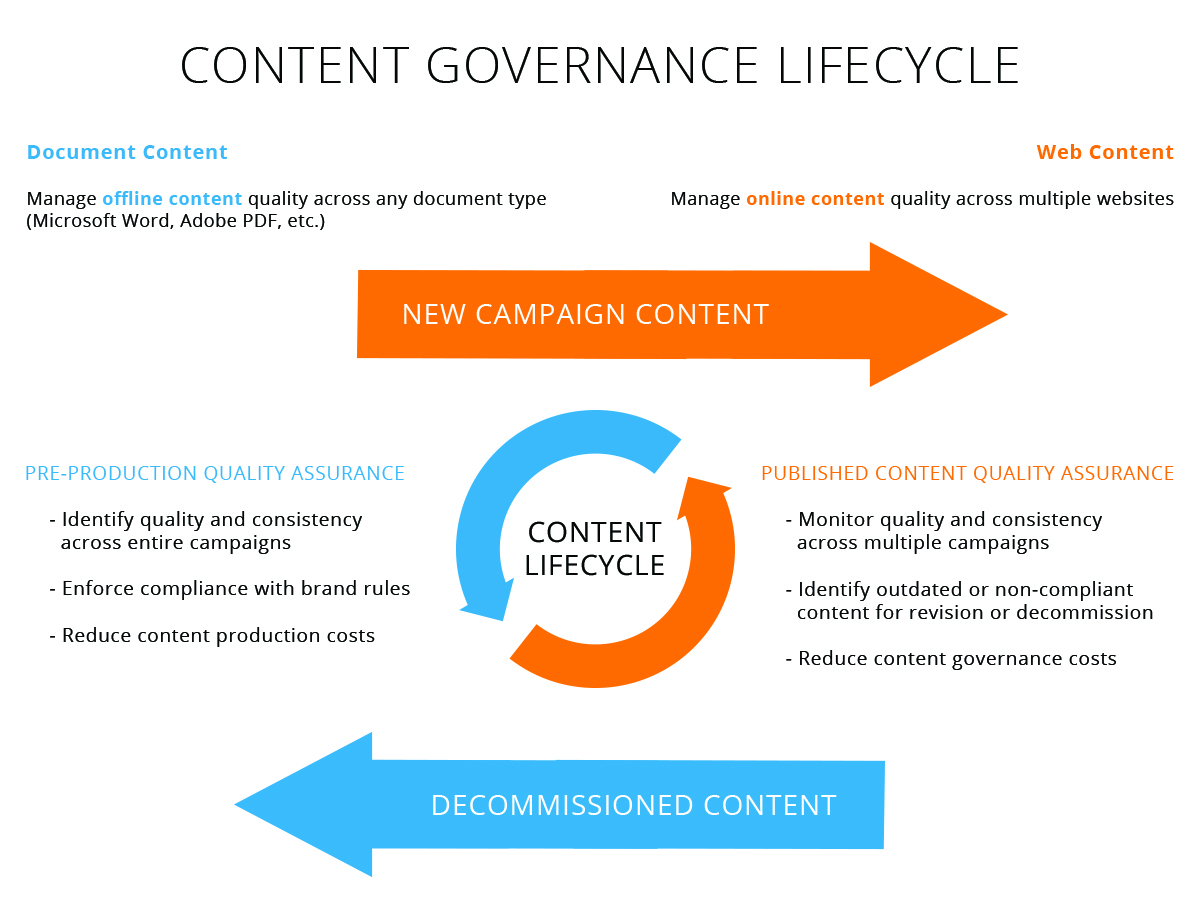 Consider a scenario: let's say your company's major product line is under scrutiny. Perhaps people are beginning to make false advertising claims and class-action groups are assembling. Your legal team recommends changing how you position the product online across web sites and product collateral. They say this will mitigate future legal exposure.
Would you be able to easily identify all the communication content containing that language? Every website, marketing slick, case study, press release, proposal template, etc.? How long would it take you to conduct an audit and what other projects would it delay? After the audit, are you sure you found every asset with the problematic language? You probably wouldn't know and it hurts just to think about it.
Organizations need to start to think of their content as true assets. Asset management pros will tell you the cost of an asset isn't known until it's used, sold or scrapped. Like bridges or machinery, content needs maintenance. And today's companies have a lot of this stuff.
Strategies for Reducing the Content Tax on Your Organization
The internet has changed the customer relationship. Prospects prefer to educate themselves before ever speaking with a salesperson. Hence, we adapt to this new reality by producing more content. As a result, everyone is looking for ways to contain costs. And probably the biggest hidden cost is associated with published content. We want to create efficiency and economies-of-scale.
Here are some ways to achieve that kind of success:
Manage from the top down: To reduce content costs, it helps to know where to focus your resources. VisibleThread issued a report on 29 U.S. Federal agencies that illustrates the challenges of an increasingly content-driven world.
Use Automated tools and Visualizations: As you'll see in the table below, we used tools in VisibleThread Web to rank the agencies on quality measures. We looked at things like the readability of the content on their websites. The index works like a heat map, showing which agencies need the most improvement in their communication.
Similar challenges exist in private company communication
Each agency website could instead be a brand, a division or a subsidiary. A similar dashboard tells you where to focus your time. And what solutions or skills would improve content quality.
Top down intelligence helps you keep your content governance efforts efficient. Insight streamlines expensive initiatives such as companywide audits to address quality issues. Knowledge makes it possible to reduce costs while still achieving the goal.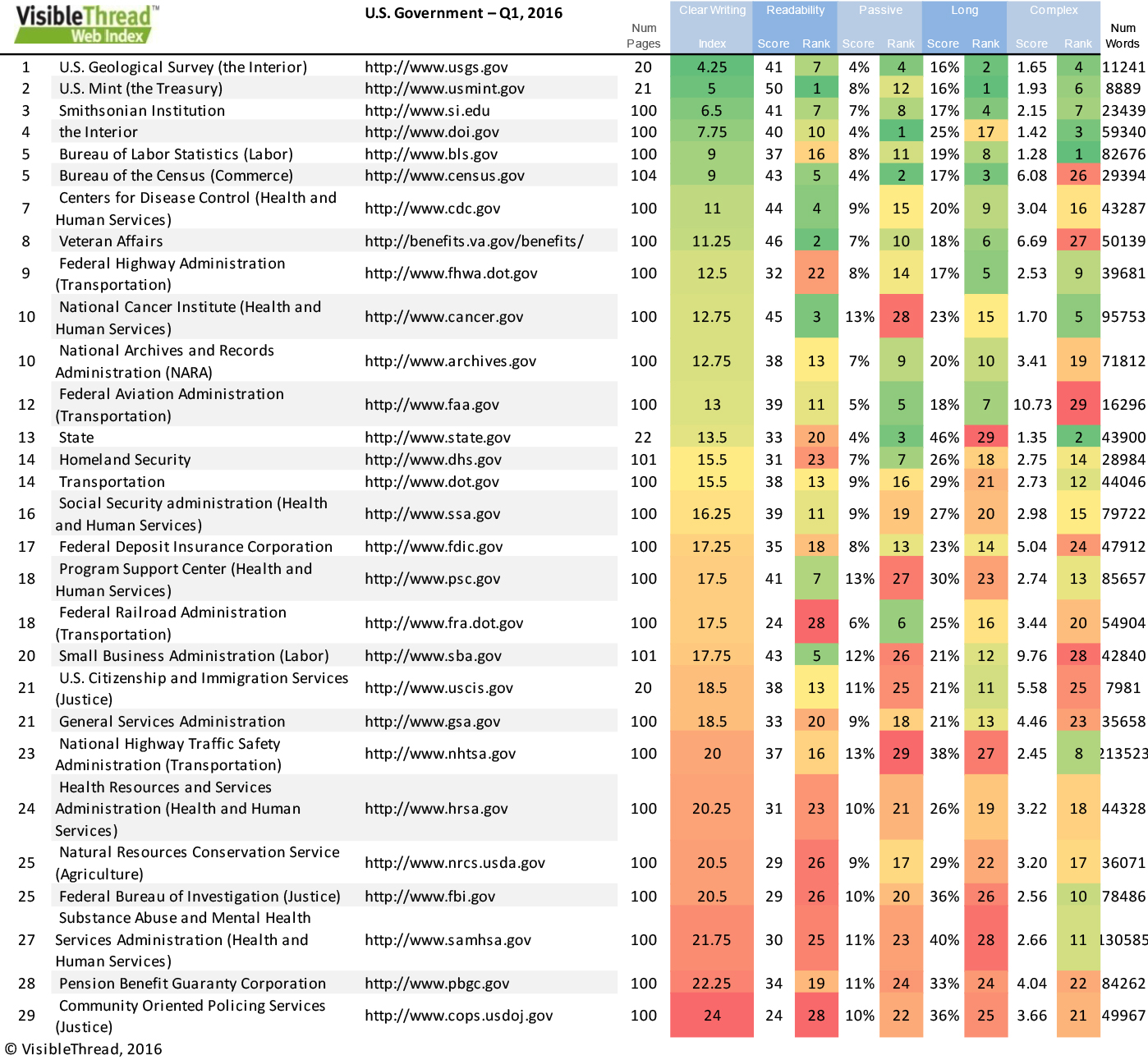 Analyze content in context
We use brand guidelines to maintain content consistency and quality. The problem? They are very difficult to enforce. Technology solves this problem by using brand guidelines as reference material. Working like a dictionary, software can power analysis of content at scale. In our report, we used a plain language dictionary of "good" and "bad" words published by the government. The presence or absence of certain words functions as a quality indicator. The table below shows the federal agency sites with the most instances of bad language, defined as "hits." In the index, "hits" show up in the "complexity" score. Companies identify content that isn't compliant with their version of "approved" language in the same way.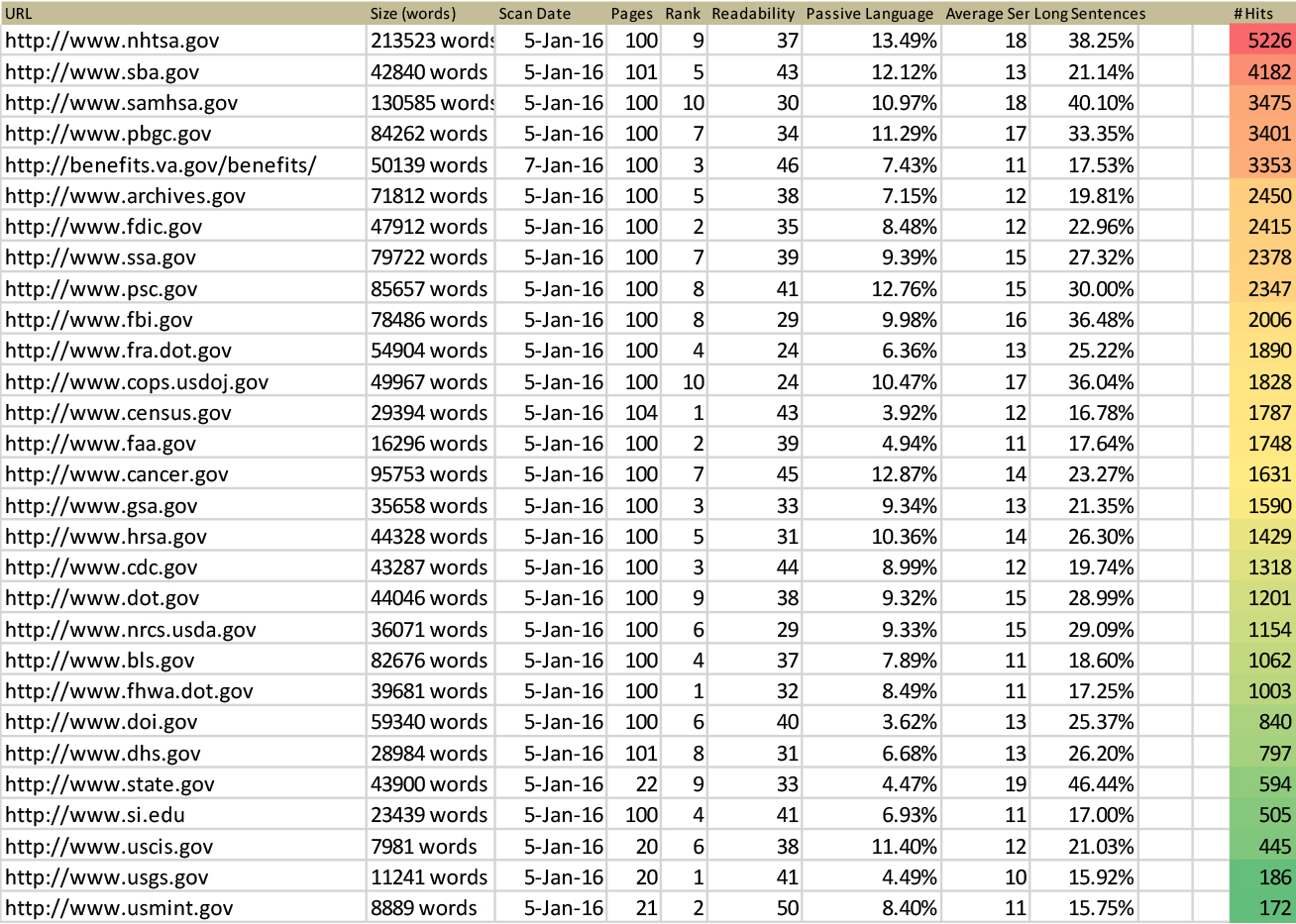 Reduce risk
Software powered reference dictionaries relate to compliance objectives and legal risk. Automated analysis increases your response time and accuracy during a crisis. Imagine a dashboard showing problematic product claims across many owned and partner/distributor websites. If you had one, it would be a lot easier to prioritize and organize preventative action.
Companies also use these tools to reduce human error in processes like proposal development. Software can point out when you're not in compliance with an RFP or automate certain tasks. Technology insulates organizations from suffering major setbacks that result from missing minor details.
An effective content governance team understands content needs to be maintained and managed as the world changes.
Content becomes outdated and problematic as laws change, mergers take place and/or we introduce new products. The content governance function should look at content assets in their entirety and ask – how do we manage these assets in a more effective way? How do we reduce this oversight tax?
2016 U.S. GOVERNMENT PLAIN LANGUAGE INDEX
On Feb 9th, VisibleThread released it's landmark Plain Language Index for 30 US Federal Agencies.
VisibleThread 2016 U.S. Government Index Finds Increasing Complexity and Declining Readability in Comparative Analysis of Federal Agency Website Content.