When Volkswagen Chairman Ferdinand Piëch resigned, the Volkswagen digital marketing team faced an unplanned for and time-sensitive content project. Why is this a big deal for content marketers and how did it affect the Volkswagen digital team?
The sudden departure of their chairman means they needed to review multiple Volkswagen web properties and thousands of pages across multiple sites. They needed to remove or update every mention of "Ferdinand Piëch", or "Ferdinand K Piëch" as chairman.
They either had to edit text to read 'former chairman' or replace the reference to the new chairman or chairman-elect.
How will Volkswagen handle this challenge? What should they do? Is it out with the red-marker? Or can they do something else?
Find Mentions
We wanted to help.
So, using the our language analysis platform we ran a quick scan to identify every mention of Ferdinand Piëch across several Volkswagen sites. We created a dictionary with these search terms in 2 minutes:
Ferdinand K. Piëch
Ferdinand Piëch
Ferdinand
Piëch
This way we can catch every reference that we need to review.
We then scanned these 3 Volkswagen websites. There will be more sites to review, but this is a good start.
We found a total of 10,860 human readable pages across the 3 sites (5,941 on corporate, 4,035 & 886 respectively on the German and English sites). As you can see below, the Volkswagen marketing team face a busy few days ahead. So we really wanted to help.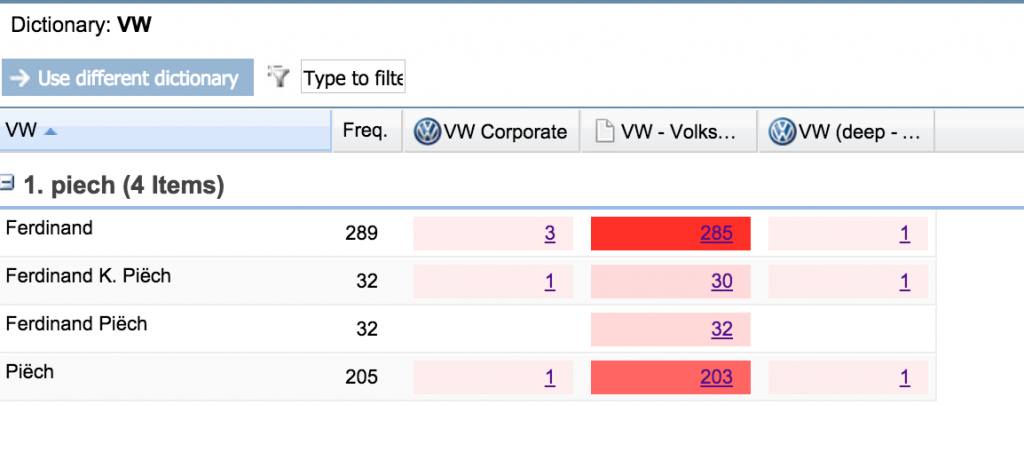 Each column shows the number of references to each term we found. The red shading helps to identify frequency, deeper red means more terms.
For example, we found 60 plus mentions of "Ferdinand Piëch" or "Ferdinand K. Piëch". The Volkswagen marketing team will need to examine each of these and identify which needs an update.
The good news is that we can drill down and itemize the occurrences by page and quickly review the content. In the Bad Language view we see each URL and paragraph where the terms exist. Normally this is a really tedious process, highly manual and can take days.
VisibleThread Cloud Service
VisibleThread's Cloud Service helps your users manage their content at scale. Our API integrates with your product in minutes, and our revenue share option means it's great for your customers and your bottom line.
By the way, there are many other reasons you may need to do a site search for out of date terms. They include:
Rebranding – You change brand name and need to remove the instances of the old brand name.
Outdated Terms – You wish to refresh your tone of voice or need to remove old brand terminology.
Finished Product lines – A product line has finished and you want to remove instances of it.
Legislation – Due to legislation you have to remove, add or change a term.