VT Readability version 2.4.3 is now available to all cloud customers. It comes with updates to VT Readability and
VT Insights as well as some brand new functionality.
Major highlights in this release include:
Addition of Revision Deltas on the result view
Ability to filter based on the latest Revision in the Quality Tab in VT Insights
Option to export all revisions by all users in the account
Benefit of improved PDF parsing
Revision Deltas on the result view
In our VT Readability 2.4 release we introduced Improvement Over Time. This is a way for the user to track score changes in a piece of content over time. And, the Analysis History view displays this data for all scans.
Now, we have added this information to the individual scans results view. Instantly see whether your edit had a positive impact on your content or not.
Filtering on Latest Revision in VT Insights
This is a frequently requested feature. It's the ability to filter data in VT Insights by the final version of a piece of content. With Improvement Over Time, that is now possible.
Up to now, VT Insights would calculate all edits of a piece of content towards the Quality Scores. This can mean that low scores at the beginning of the editing process will drag down the Quality Score overall. In addition, this would clutter reports when trying to get a figure for the final published content only.
Now, we have added an option to filter by Final Revision Only.

Export of all Revisions in the Users Account
This export is a quick way to see the editing cycles of all users in the account. It contains all scans that have been revised as well as the scans revision set complete with deltas.

Improved PDF Parsing
PDF parsing is a technically tricky issue to solve. This is due to the PDF format's primary design goal being accurate display/printing on any device. Typically, PDFs don't provide a logical structure like other source tools (e.g. MS Word).
Before VT Readability 2.4.3, PDF parsing could lead to a loss of text structure. Sentences might end up bundled together and hard to read. We wanted to tackle this and improve our PDF analysis with VT Readability 2.4.3.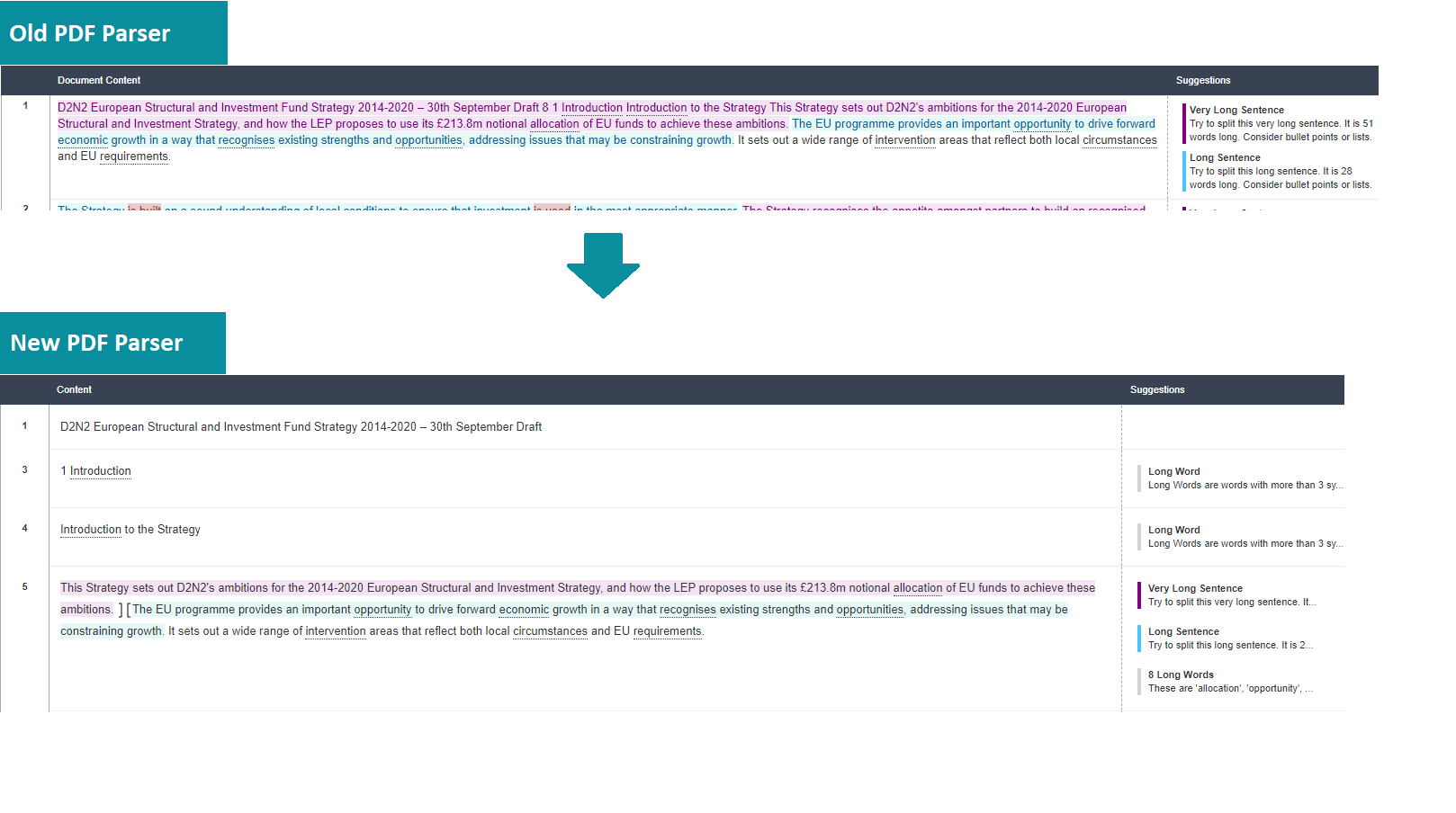 As you can see by the provided example, you now have a closer match to the original text structure. Less sentences incorrectly bundled together. While it might not be perfect, it is much more accurate and easier to read.
If you'd like more information about this release, check out the complete Release Notes here.
We hope you enjoy these improvements.
From all in the VisibleThread Product Engineering Team