Independent Report Finds U.S. Federal Agencies Failing Plain Language Act Objectives
VisibleThread 2016 U.S. Government Index Finds Increasing Complexity and Declining Readability in Comparative Analysis of Federal Agency Website Content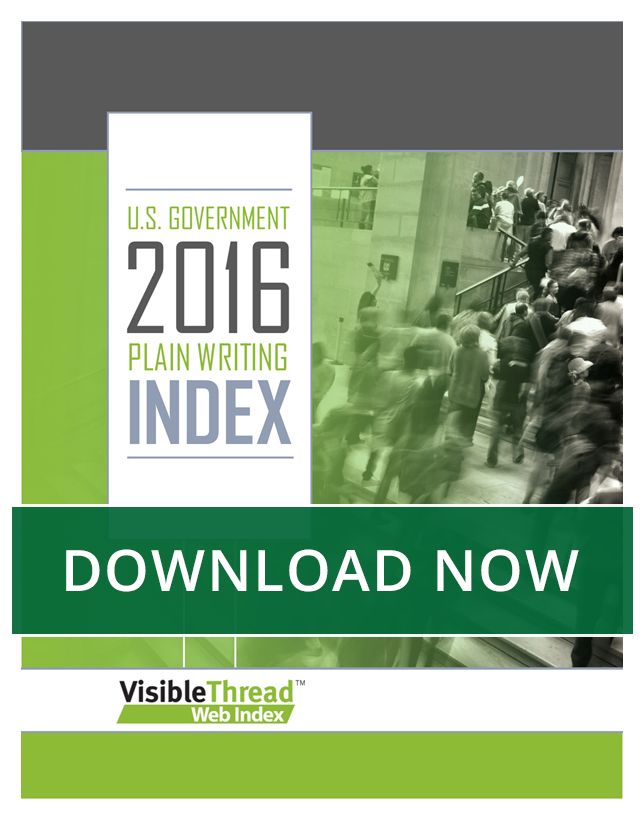 Baltimore – Feb. 9, 2016 – VisibleThread released findings from its 2016 U.S. Government Index Report, a comparative study of the quality of content on a set of federal agency websites. The study, which also includes detailed comparisons to a benchmark 2011 report of the same agencies, finds that communication is worse today than it was five years ago. The company has made the full report available on their website at www.visiblethread.com/solutions/brand-communications/
The Plain Writing Act of 2010 requires that federal agencies use "clear Government communication that the public can understand and use." VisibleThread's independent report ranks federal agency sites across four different categories: readability, frequency of passive voice, frequency of long sentences and density of complex words. The 2016 report finds that despite modest improvements in passive voice and long-sentence frequency, federal agency communication is regressing. Measures of average complexity across the Index have more than doubled and readability has gone up a full grade-level.
"VisibleThread's 2016 U.S. Government Index results should give people cause for concern as quality of communication has a direct impact on Government costs, particularly for agencies responsible for overseeing compliance" stated Fergal McGovern, CEO of VisibleThread. "Poor communication correlates with higher administrative costs, increased litigation, and lower revenues, and yet it's one of the easiest and least costly variables governments can address."
The Top 6 agencies in the 2016 Index were: 1. U.S. Geological Survey; 2. U.S. Mint; 3. Smithsonian; 4, Department of the Interior; and 5. a tie between Bureau of Labor Statistics and the Bureau of the Census. The U.S. Mint was the only agency measured in the entire Index with an acceptable Readability Score. Eight agencies achieved acceptable scores in the 2011 Index. The U.S. Geological Survey was one of only four agencies that registered acceptable levels of passive voice – no agency met requirements in the 2011 Index. The report also includes full Index tables and additional key findings for individual department and agency performance, including directional rank change and areas for plain language improvement.
VisibleThread, which develops enterprise-grade document content analysis solutions for sales, marketing and communication professionals, uses its technology and a database of complex words published by PlainLanguage.gov to produce the data for the Index. Private companies use VisibleThread's solutions to analyze lengthy sales proposals or other marketing assets and identify risk. Authors of the report were able to scan a federal agency's website in a matter of minutes to produce the assessment. This scan also identified the factors that are driving scores for each of the criteria and their location on the website.
---
About VisibleThread
VisibleThread helps executives in large organizations govern content quality with less cost and risk. Sales and marketing teams in diverse industries use our technology to improve many functions, including proposal development, contract review, and brand audits. Our software finds brand compliance, poor readability, and other issues in websites and documents. Unlike consumer-grade analysis tools, VisibleThread processes hundreds of documents and web pages in minutes. Fueled with greater organizational intelligence, customers drive efficiency and reduce cost across their organizations. For more information, visit www.visiblethread.com.
[addthis_horizontal_recommended_content]