VisibleThread Docs 2.11 – Now available for download
Eoin here, VisibleThread head of engineering and support.
Our new 2.11 release is now available
and ready for download for on-premise customers. This release is already live for cloud customers. I wanted to give you a quick summary of what's new in this release. For a complete list of what's new, download the
2.11 Release Notes
PDF. We have listened to feedback from our customers, and used it to improve the compliance features in VisibleThread Docs.
The highlights include:
Better, more complete Compliance Matrix Generation
Enhanced Discovery & Gap analysis, featuring filters & groups
Ability to re-order documents in folders
Completely re-written help documentation, usability enhancements and over 20+ bug fixes
For on-premise customers: to get access to the release check out the support forum entry.
It tells you how to update your installation and the mechanics of getting 2.11Better, more complete Compliance Matrix Generation
VisibleThread for Docs 2.10 does a good job of generating a starter compliance matrix, and its one of the most heavily used features of the product. We received lots of great feedback about this feature from users, and have incorporated a lot of this into our new 2.11 release:
You now get a full extract of all content, not just content with keywords,
The reference or section heading is extracted for PDF docs,
Lists of items are now fully output, so patterns like 'The contractor will provide:' followed by a list is handled and output into the matrix,
It is using a better Excel format more suitable for and specific to compliance matrices.
There is now a dedicated button to generate Compliance Matrices in the UI. Use this rather than the old approach of exporting to Excel.
Enhanced Discovery – Better Compliance & Gap analysis
In 2.10, we had a single word noun discovery view for docs and folders. That worked well for acronyms, and extracting single word concepts like 'security', but it wasn't able to handle multi-word concepts (referred to as 'noun phrases') such as;
"Liquidated damages",
"ISO 9000",
"Archive Data Policy".
In 2.11 we have completely re-designed VisibleThread Discovery. Now, VisibleThread will flag multi-word concepts automatically and group them into major themes or topics. This new capability has numerous business use cases, including:
Verify that proposals are non-aligned with solicitation language
Verify that your proposal is non-compliant and doesn't cater for critical requirements from L&M
Verify that a brand reference is consistent across multiple documents
Quickly identify risky content that may trip you up at program delivery phase.
Quickly identify the major themes in any document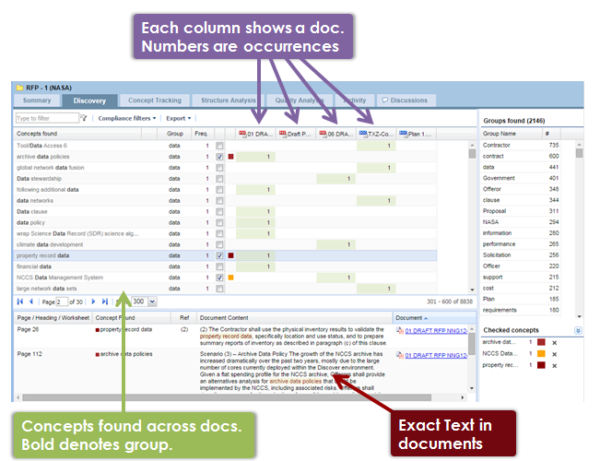 Version 2.11 has more new capability and a fully rewritten help file. For a complete list of what's new download the
2.11 Release Notes
PDF.
Need more information, have some questions?
No problem, email us at support@visiblethread.com and we will be happy to help! If you want to try
VisibleThread Docs
sign up here for a
7-day free trial