Eoin here, VisibleThread head of engineering and support. Our new 2.12 release of VisibleThread for Documents is now available and ready for download for on-premise customers. This release is already live for cloud customers. In this blog post, I will provide a quick summary of what's new in the bid proposal software. For a complete list of what's new, download the 2.12 Release Notes PDF.
The highlights include:
New Acronym Report capability – Acronym checking and Acronym extraction
User Interface improvements
More flexible Compliance Matrix generation
Extensions to Discovery for better Compliance
New Clear Language Metrics
More flexible Exports to Excel
Support for duplicate Dictionary Terms
For on-premise customers
To get access to the release check out the support forum entry. It tells you how to update your installation and the mechanics of getting 2.12 New Acronym Report Capability
We have added a new acronym report that allows you to view all acronyms and their definitions in a particular document. There are two core usage scenarios for VisibleThread Doc's acronym checking capability
Verifying the integrity of acronyms
Extracting a list of acronyms and their definitions from any document
This report flags:
Well-defined acronyms, meaning an acronym with a fully expanded definition alongside
Acronyms with no definition
Acronyms with multiple definitions
Acronyms where usage occurs before the definition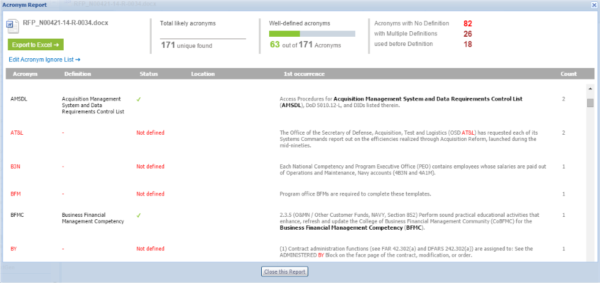 More Flexible Compliance Matrix Generation
We have made a few tweaks to the Compliance Matrix generation process that will cut down on the amount of manual time spent processing the compliance matrix results.
The option to ignore any paragraphs from the original RFP that contain certain pieces of text
The option to ignore specific pages or page ranges from the RFP
Use Cases supported by these enhancements include:
Ignore any header/footer text
Generate the compliance matrix for section L & M only
Exclude the table of contents or appendix from the compliance matrix
New Clear Language Metrics
2.12 sees the introduction of a new 'Grade Level' score for each document added to VisibleThread. This metric is based on the Flesch Kincaid Grade level and will help you gauge how suitable your content is for your target audience.
We have also extended the 'Readability' and 'Grade Level' scores to each paragraph in the document. This allows you identify which parts of the document contain the most problematic language.
Version 2.12 has more new capability. For a complete list of what's new download the 2.12 Release Notes PDF.
Need more information, have some questions?
No problem, email us at support@visiblethread.com and we will be happy to help!