VT Docs 4.4.3 is now available to install for on-premise customers.
This release includes:
MS Word table structure preserved in Excel shreds/exports

Download all documents in a folder

Support for deployments on Red Hat Enterprise Linux 8 FIPS
Word Tables in Excel Exports
Up to now, VT Docs shredded / exported MS Word tables by splitting out every cell in a table as a new row in the output.
So, if you had a table with say five columns like in the below example, then the resulting output would have five rows, a row per cell. This made the outputs for table content sometimes difficult to read. And customers let us know that the more natural, preferred output would be one row per table row.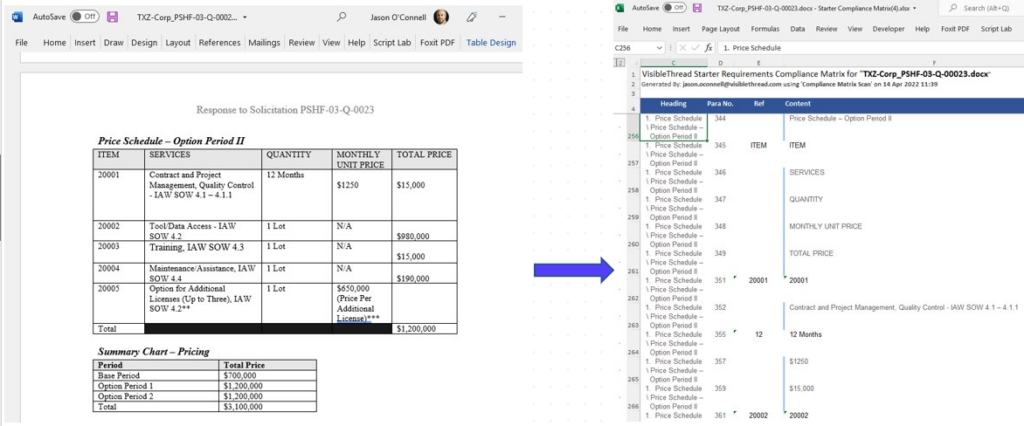 In essence, this "Excel row per cell" meant you lost the structure of the original table. And this could make it difficult to understand the output and manage compliance.
Our new release of VT Docs detects tables and preserves the structure of the table in the Excel outputs.
Now our five columns in the previous example becomes one row. This makes table rows readable, controllable, and matches the format your see in the original doc. You can see how this appears below.

NOTES:
This new treatment for tables is only available for MS Word docs and specifically .docx format files. If you have very old ".doc" files, then open MS Word and save them as the latest format.
It also does not support PDFs. This is because PDFs are basically streams of text, with no inherent underlying structure. So, we cannot reliably detect tables.
This improved table support will apply automatically if you upload new Word documents. For Word documents already in VT Docs, click re-analyze this folder to get the improved table support.

Download All Documents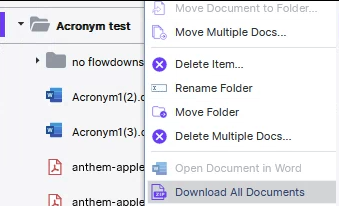 We've introduced the ability to download all documents in a folder (including all sub-folders). Your documents are downloaded as a zip file and will retain the folder structure. To download, right click on a folder and click Download All Documents.
Full release notes available here.